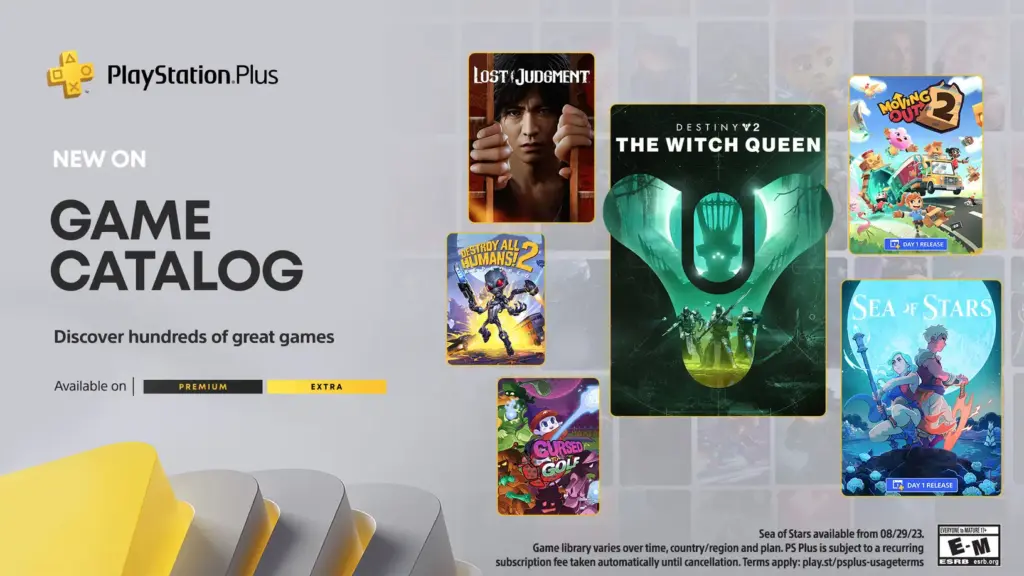 Naast de gratis PlayStation Plus games van deze maand, voegt PlayStation ook nog eens games toe aan hun, altijd groeiende, PlayStation Plus gamecatalogus. Deze games zullen enkel beschikbaar zijn voor een ieder met een actieve PlayStation Plus Extra of Premium abonnement. We zetten de toegevoegde games voor je op een rij.
Sea of Stars | PS4, PS5 (vanaf 29 augustus)
Moving Out 2 | PS4, PS5
Destiny 2: The Witch Queen | PS4, PS5
Lost Judgment | PS4, PS5
Destroy All Humans 2 Reprobed | PS4, PS5
Two Point Hospital: Jumbo Edition | PS4
Source of Madness | PS4, PS5
Cursed to Golf | PS4, PS5
Dreams | PS4
PJ Masks: Heroes of the Night | PS4, PS5
Hotel Transylvania: Scary-Tale Adventures | PS4, PS5
Lawn Mowing Simulator: Landmark Edition | PS4, PS5
Spellforce III Reforced | PS4
Midnight Fight Express | PS4
'Nieuwe' PlayStation Premium classics games:
MediEvil: Resurrection | PS4, PS5
Ape Escape: On the Loose | PS4, PS5
Pursuit Force: Extreme Justice | PS4, PS5
De games zijn vanaf 15 augustus te vinden in de gamecatalogus, dit betekent dat Moving out 2 beschikbaar is vanaf release. Sea of Stars zal ook vanaf release te vinden zijn, echter zullen we wel tot 29 augustus moeten wachten tot deze in de PlayStation Plus gamecatalogus is. Meer informatie vind je op PlayStation Blog.